*Opening Hours (from 01.09.2020 onward)
Due to the CoVid regulations, coming to the SSS Anglistik office can ONLY be done by appointment via Termino to pick up recognition documents on Tuesdays (10.00-11.00) and Thursdays (13.00-14.00)! You can book a slot here.
Coming to the office without an appointment is not possible!
Handing in documents (application of recognition, application for issuing degree certificates) is done only per email at the moment - please read our SSS online services instructions.
For questions or personal counseling, make sure to write us an email or contact us during our telephone hours.
Outside of our opening hours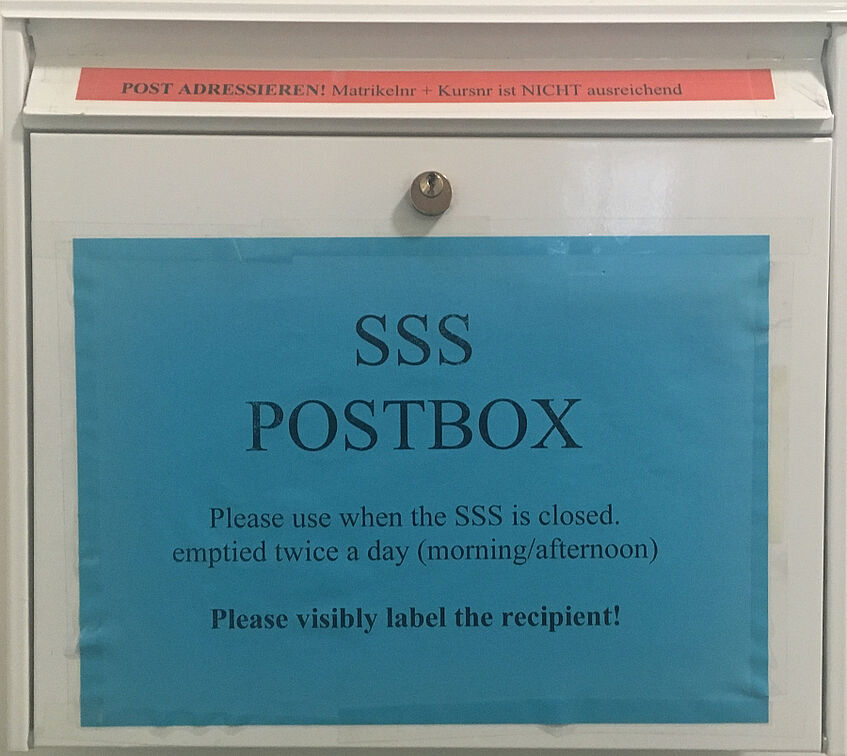 Outside of our opening hours
Outside of our opening hours, our team is busy processing your applications and responding to your e-mails. Please understand that we cannot be available for you personally during that time.
Applications of any type can also be handed in via our postbox, which can be found to the right of the glass doors leading to the SSS. If you use the postbox, please make sure that your documents stay together (i.e. staple, clip or otherwise bind them together, or put them in a folder or envelope).
Where to find us